Hosted by Jana over at That Artsy Reader Girl. I was so excited for this topic back when it came up, but then I was on an unplanned hiatus when it's turn came. I knew as soon as a freebie week cropped up, this was what I was going to do. After some thought, I decided not to add short stories or novellas that are part of a series unless they work perfectly well on their own or as an introduction/starting point to the series. Also, as much as it pains me to say it, I decided not to add short stories that are only available in anthologies. (Because that's just not fair to you guys if I loved one story and wouldn't recommend the rest of them.) (I also limited this to books that are under 150 pages – because in my mind, much more than that starts being novels.)
The 13th Hex by Jordan L. Hawk
Romance. Magic.
Murder.
Dominic Kopecky dreamed of becoming a member of New York's Metropolitan Witch Police—a dream dashed when he failed the test for magical aptitude. Now he spends his days drawing the hexes the MWP relies on for their investigations.
But when a murder by patent hex brings crow familiar Rook to his desk, Dominic can't resist the chance to experience magic. And as the heat grows between Dominic and Rook, so does the danger. Because the case has been declared closed—and someone is willing to kill to keep it that way.
Miranda, daughter to Prospero, the feared sorcerer-Duke of Milan, stifles in her new marriage. Oppressed by her father, unloved by Ferdinand, she seeks freedom; and is granted it, when her childhood friend, the fairy spirit Ariel, returns. Miranda sets out to reach Queen Titania's court in Illyria, to make a new future…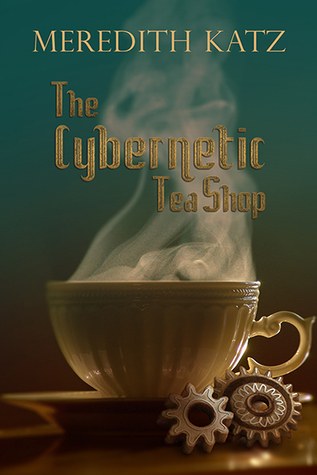 Recipe for Magic by Agatha Bird
Connor Roth is a fire mage who's going places. He's powerful, popular, and he has a plan. But his plan for fame and glory is disrupted when the Oracle sticks him with Landyn Glendower for Senior Trial. This is an act unprecedented in their school's history. Landyn is a water mage, and everyone knows mages with opposing elements can't work magic together.
Connor is left with a choice: work alone and fail or swallow his pride and work with Landyn to find a way to combine their magic in a display the Archmages will never forget—if they don't get kicked out of school in the process.
The Cybernetic Tea Shop by Meredith Katz
Clara Gutierrez is a highly-skilled technician specializing in the popular 'Raise' AI companions. Her childhood in a migrant worker family has left her uncomfortable with lingering in any one place, so she sticks around just long enough to replenish her funds before she moves on, her only constant companion Joanie, a fierce, energetic Raise hummingbird.
Sal is a fully autonomous robot, the creation of which was declared illegal ages earlier due to ethical concerns. She is older than the law, however, at best out of place in society and at worst hated. Her old master is long dead, but she continues to run the tea shop her master had owned, lost in memories of the past, slowly breaking down, and aiming to fulfill her master's dream for the shop.
When Clara stops by Sal's shop for lunch, she doesn't expect to find a real robot there, let alone one who might need her help. But as they begin to spend time together and learn more about each other, they both start to wrestle with the concept of moving on…
Knit One, Girl Two by Shira Glassman
Small-batch independent yarn dyer Clara Ziegler is eager to brainstorm new color combinations–if only she could come up with ideas she likes as much as last time! When she sees Danielle Solomon's paintings of Florida wildlife by chance at a neighborhood gallery, she finds her source of inspiration. Outspoken, passionate, and complicated, Danielle herself soon proves even more captivating than her artwork…
Romancing the Inventor by Gail Carriger
Vampires are keeping an inventor in their potting shed. Imogene wants to seduce her.
Imogene Hale is a lowly parlourmaid with a soul-crushing secret. Seeking solace, she takes work at a local vampire hive, only to fall desperately in love with the amazing lady inventor imprisoned there.
Genevieve Lefoux is heartsick, lonely, and French.
With culture, class, and the lady herself set against the match, can Imogene and her duster overcome all odds and win Genevieve's heart, or will the vampires suck both of them dry?
A Matter of Disagreement by E.E. Ottoman
Two sworn rivals, a clash of ideas, and an attraction neither can deny.
A noted scholar of ancient literature and spellcraft, Lord Ashcroft "Andrea" de Bourbon, finds his world shaken when the new science of mechanical animation becomes the talk of high society. In response, Andrea takes to the presses gaining notoriety for his scathing critiques of mechanical animation and its founder the Marquis de la Marche.
Then one night Andrea comes face to face with the Marquis de la Marche and discovers he is nothing like Andrea expected. Leon Gregory de la Marche VI, Marquis de la Marche is handsome, brilliant, and charming. While their clashes on paper have become legendary in person they are even more explosive. As passions rise Andrea knows there is no backing down…
A Hole in the World by Sophie Robbins
Bianca's life is tediously normal until the day she rescues a fairytale princess from a troll.
Then, everything changes and Bianca finds herself being thrust into the role of Prince Charming whether she likes it or not.
Despite her misgivings, she's drawn to the strange Princess and her ways and before she knows where she is she's forced to fight for her love – and her life.
Go ahead and count – there's only eight here – but any more would just be (I want to say 'gilding the lily' but I'm not sure that's appropriate here) adding books that I liked but don't feel like pushing at everyone. These were stories that I both loved at the time and can look back favorably on. (Which is getting more and more difficult, I must say.)