I'm always on the lookout for tags I haven't done yet, and this one looked too fun to pass up. Created by A Perfection Called Books and Dana Square (whose blog I am blocked from as my anti-virus says it's a 'high risk site' – and I don't want to chance it although it's probably fine – so I can't link it) but I found it at One More.
How do you keep track of your TBR pile?
Goodreads. It's the best and easiest way for me to keep track of the books I own but haven't read and the books that I want to get my hands on someday. All my physical unread books are also on my desk, as well as any books I want to reread before continuing the series.
I've been thinking about setting up a spreadsheet for them…but that seems like a lot of work for little reward. Though I am still considering it.
Is your TBR mostly print or ebook?
Hmm, right now I think my physical TBR is about 60/40 in favor of print books. But that's probably going to change once I start buying books again, because eBooks are cheaper and I'm needing to watch my money. SO my Goodreads TBR will be probably 85/15 in favor of eBooks. (I'll still buy certain authors in physical copies and ones that are close in price.)
How do you determine which book from your TBR to read next?
Very gingerly. And with much angst.
Sometimes I know exactly what book I want to read next before I finish the one I'm working on, but, more often, I stress for a day or two over what I want to read, dithering and being unable to just decide, already and I usually wind up starting about three books before finally settling on one.
Ahh, the problems only other book bloggers understand.
A book that's been on your TBR the longest:
Well, back in November of last year, I completely cleared out my physical TBR (after much blood, sweat and tears) so I'll go with the book that's been on my Goodreads TBR the longest.
The Shattered Gates by Ginn Hale
So, as much as I've adored the other Hale books I've read, I've had this one on my list for two years and still haven't bought it. Mostly because it's the start of a series of novella's and I have every intention of buying all of them at once and reading them all together. Like $25-$30 and over 1000 pages worth. … Yeah. I've been scared off by my own ambition.
A book that you recently added to your TBR:
Last book I bought was The Life of Captain Marvel (because I couldn't decide on which Deadpool I wanted and they didn't have the older Young Avengers) and the last book I added to my Goodreads TBR was Beneath the Citadel by Destiny Soria (because of the boatload of diversity and the strong friendships).
A book that's on your TBR strictly because of its beautiful cover:
I have never chosen to read a book – or put it on my TBR – solely because of the cover. Sure, it's a strong deciding factor if I look at it closer. However, I have been known to wait to buy a book to get a different cover. For example: The Epic Crush of Genie Lo by F.C. Yee is a book that I've been interested in for over a year, inspired by a couple of my blogging friends reading it and enjoying it a lot. I've been meaning to buy it, but then I saw the cover of the paperback that's coming out later this year and…decided to wait for that cover.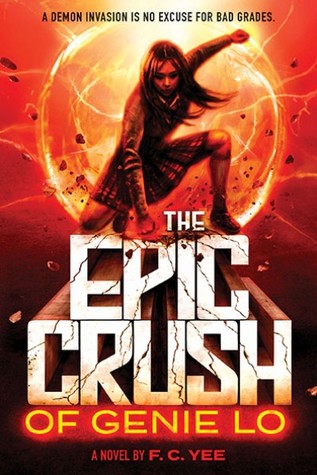 Because, really, there's no question which one I'd rather read.
A book on your TBR that you never plan on actually reading
None. If the books there, I do actually plan to read it. Of course, sometimes I loose interest in a book, which is why I like to periodically clean off my Goodreads TBR and get rid of the books I've lost interest in.
An unpublished book on your TBR that you're excited for: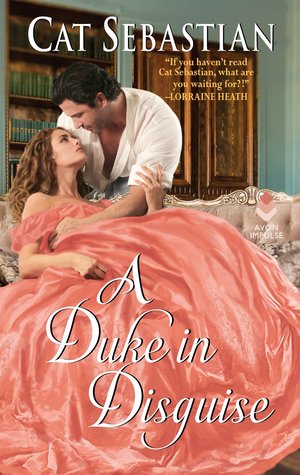 I love Cate Sebastian's writing (historical romance) and A Duke in Disguise is her first foray into M/F romance. All her previous books were M/M and one with a non-binary love interest that uses she/her pronouns. And if anyone can convince me to read M/F romances, it's Sebastian.
A book on your TBR that basically everyone has read except you:
The rest of the Percy Jackson series. And the rest of The Mortal Instruments series. Beyond that…I read a lot of niche books (as my brother called my reading) and that's mostly what my TBR is populated with.
A book on your TBR that everyone recommends to you: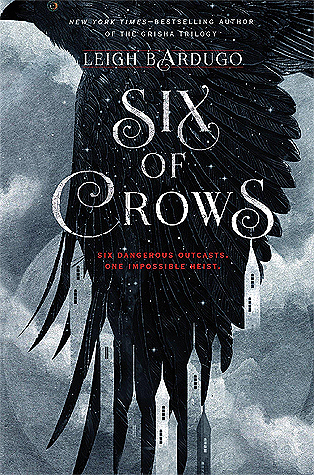 Not exactly recommend, but everyone talks about Six of Crows by Leigh Bardugo and says such favorable things and… I probably should have had this as my answer to the last prompt.
A book on your TBR that you're just dying to read:
I had hoped I'd get Terminal Uprising by Jim C. Hines for my birthday. When that didn't happen I thought 'okay, I'm going to a big bookstore the first of March, I'll buy it then.' Only that bookstore didn't have it. So, I really, really want to read it, but there's no telling when I'll finally get to.
The number of books on your (goodreads) TBR shelf:
Right now, marked as 'want to read' I have 127 books on my Goodreads shelf. I have another 28 marked as 'own-unread' with 25 marked as 'not-yet-released.' So… add all that up and I've got 180 books on my Goodreads TBR.
This was fun. If you're interested in this tag, consider yourself as having been tagged!