I didn't actually get as much up this month as I wanted to. It was just a little hectic and, well, when I wasn't stressing out, I wanted to relax. So…Yeah. I had hoped to get more sci-fi month posts up – and a couple reviews, but I didn't. (I will link my goodreads reviews for the books this time, though.)
This time I'm going to divide the wrap-up up differently. Because I read/watched things that didn't fit sci-fi month, I'm going to wrap-up sci-fi month first, and then the rest of the stuff afterwards.
Sci-Fi Month Reading
(Book covers linked to my goodreads review.)
Sci-Fi Month Watch/Play List
Ugh. There are not even words for how terrible I did here. The shows I tried to watch all ended up being DNF's and shoved onto my shelves. I didn't finish any of the shows I was supposed to here, as for my high hopes of movies…I watched the first Ghost Rider movie and….it wasn't at all what I remembered. I mean, it was okay, until the 'it's totally appropriate to grab the girl and kiss her' scene and then she's all like 'I'll go out to dinner with you because now I see that you still do love me' … Urgh.
You might think I'll have done better with my games, but I haven't. I didn't actually manage to finish any of them and, between boredom and a couple of them not playing well on my computer (it's too new, the games are too old) … I didn't get anything finished.
In Case You Missed It
(wherein I collect all my sci-fi month posts)
My Sci-Fi Month Watch and Play List
Sci-Fi Month: Photo Challenge #2: First Sci-Fi Read
Scfi-Fi Month: Photo Challenge #4: Favorite Sci-Fi Series
Top Ten Backlist Sci-Fi Books I Want to Read
Sci-Fi Month: Photo Challenge #8: I Can't Wait to Read
My Sci-Fi Book Recommendations
Now I'm going to switch over and talk about the non-sci-fi month stuff.
5 Star Read/s
4 Star Read/s
2 Star Read/s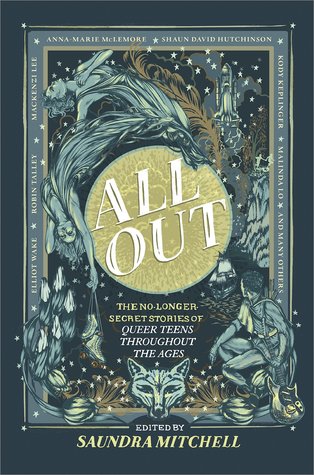 1 Star Read/s
Watching & Music & Gaming
As for my non-sci-fi viewing… The only show I finished was Power Rangers: Super MegaForce. And…it was kind of totally awesome. Still not my fav Power Rangers, but the characters were all so likable and I'm very impressed with the acting skill this season. (Definitely up a bit from the first season and far above Samurai.)
When I went shopping early-ish in November, besides buying books, I also picked up a couple CD's and one of them was Shinedown's newest and…that CD is great. I think I'm back to being a HUGE fan of theirs and, of all the songs on the CD, I thing this one is my favorite.
And then there's this song. I love the song and I think the guy's voice is amazing.
My gaming has been borderline non-existent. Which, now that I think about it, might be why I hadn't been in a very good mood for November. Anyway, I hope you guys had a good November and I hope my December will be better than my November.