I always get so excited about this yearly event, but always miss out in participating. This year, I decided when I first saw the announcement go live that I had to do it. I'm not sure that I'll actually get a lot done, my posting lately has been so sporadic, but I will be reading sci-fi and hopefully visiting you guys to get more suggestions. And what, exactly, will I be reading this month? Here's a gathering of all the sci-fi books I currently have to read. Hopefully I will be getting to ALL of them this month.
Unearthed by Amie Meagan Spooner
When Earth intercepts a message from a long-extinct alien race, it seems like the solution the planet has been waiting for. The Undying's advanced technology has the potential to undo environmental damage and turn lives around, and Gaia, their former home planet, is a treasure trove waiting to be uncovered.
For Jules Addison and his fellow scholars, the discovery of an alien culture offers unprecedented opportunity for study… as long as scavengers like Amelia Radcliffe don't loot everything first. Mia and Jules' different reasons for smuggling themselves onto Gaia put them immediately at odds, but after escaping a dangerous confrontation with other scavvers, they form a fragile alliance.
In order to penetrate the Undying temple and reach the tech and information hidden within, the two must decode the ancient race's secrets and survive their traps. But the more they learn about the Undying, the more their presence in the temple seems to be part of a grand design that could spell the end of the human race…
What if you could change history?
What if someone else already had?
Grounded after a rescue attempt in Earth orbit goes bad, Commander Martin Atkins of the Confederation Navy is approached by the Interscission Project, a consortium of civilian corporations on the verge of perfecting the technology to travel to another star. Despite his misgivings, the chance to get back in the pilot's seat is too much to pass up, and he convinces his best friend and crewmate, Charles Davenport, to leave the military temporarily and join him as part of the crew of the Zenith, humanity's first starship.
Edward Harlen is a brilliant young engineer, and a key player in the construction of the Zenith to take advantage of the untested technology of foldspace drive. But Edward has his own agenda in joining the project, and a bitterly personal score to settle with his boss, Trevor Sutton, a vendetta of which Trevor is entirely ignorant. When Edward's sister Stella enters the picture and manages to secure a position on the project, all of Edward's careful plotting is upset, and she might spell the downfall not only of his plans for revenge, but of the entire Zenith mission.
The spark of attraction between Edward and Martin is a complication that Edward can't afford, but of which he can't let go. For Edward knows the secret at the heart of the Interscission Project, the hidden potential of the technology that in the wrong hands could become the ultimate assassin's weapon: the ability to rewrite history, not just once, but many times. As an unseen enemy moves to destroy them, and the body count multiplies in their wake, Martin and Edward must choose whether they will allow the possibility of love to challenge their destinies, or will they instead take up arms in a war to control the most ancient and terrible power in the universe.
Time, itself.
Barbary Station by R.E. Stearns
Adda and Iridian are newly-minted engineers, but in a solar system wracked by economic collapse after an interplanetary war, an engineering degree isn't worth the paper it's printed on. Desperate for gainful employment, they hijack a colony ship, planning to join a pirate crew at Barbary Station, an abandoned shipbreaking station in deep space.
But when they arrive at Barbary Station, nothing is as they expected. The pirates aren't living in luxury — they're hiding in a makeshift base welded onto the station's exterior hull. The artificial intelligence controlling the station's security system has gone mad, trying to kill all station residents. And it shoots down any ship that tries to leave, so there's no way out.
Adda and Iridian have one chance to earn a place on the pirate crew: destroy the artificial intelligence. The last engineer who went up against the security system suffered explosive decapitation, and the pirates are taking bets on how the newcomers will die. But Adda and Iridian plan to beat the odds.
There's a glorious future in piracy…if they can survive long enough.
An Ancient Peace by Tanya Huff
Gunnery Sergeant Torin Kerr had been the very model of a Confederation Marine. But when she learned the truth about the war the Confederation was fighting, she left the military for good.
But Torin couldn't walk away from preserving and protecting everything the Confederation represented. Instead, she drew together an elite corps of friends and allies to take on covert missions that the Justice Department and the Corps could not—or would not—officially touch. Torin just hoped the one they were about to embark on wouldn't be the death of them.
Ancient H'san grave goods are showing up on the black market—grave goods from just before the formation of the Confederation, when the H'san gave up war and buried their planet-destroying weapons…as grave goods for the death of war. Someone is searching for these weapons and they're very close to finding them. As the Elder Races have turned away from war, those searchers can only be members of the Younger Races.
Fortunately, only the Corps Intelligence Service has this information. Unfortunately, they can do nothing about it—bound by laws of full disclosure, their every move is monitored.
Though Torin Kerr and her team are no longer a part of the military, the six of them tackling the H'san defenses and the lethally armed grave robbers are the only chance the Confederation has. The only chance to avoid millions more dead.
But the more Torin learns about the relationship between the Elder Races and the Younger, the more she begins to fear war might be an unavoidable result.
Earth's last known colony, Albion, is fighting an alien enemy. In the first of the Taking Shield series, Shield Captain Bennet is dropped behind the lines to steal priceless intelligence. A dangerous job, and Bennet doesn't need the distractions of changing relationships with his long-term partner, Joss, or with his father-and with Flynn, the new lover who will turn his world upside-down. He expects to risk his life. He expects the data will alter the course of the war. What he doesn't expect is that it will change his life or that Flynn will be impossible to forget.
Jahir and Vasiht'h have spent five years together in practice on Starbase Veta, and their life is everything they'd hoped: their practice is fantastic, their social standing great, and their domestic life a blissful routine. So when Vasiht'h discovers his partner has "accidentally" accrued enough continuing education credits to become a licensed healer-assist after deciding against that path in college, he can't help but wonder… are they on the wrong path?
Since Jahir himself isn't talking, Vasiht'h decides someone needs to make some decisions. If those decisions lead them to the Alliance's foremost resort planet, where the licensing exams are being held, well… surely they could use a beach vacation. Jahir sits his test, Vasiht'h has some purple drinks with umbrellas on the beach, and they both go home with a renewed sense of purpose.
What could possibly go wrong?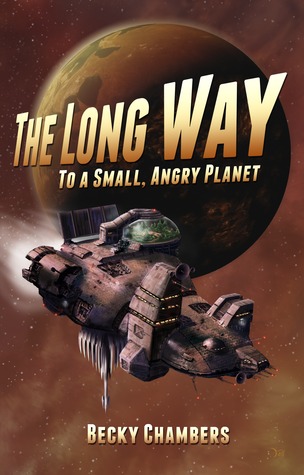 Xenotherapist Vasiht'h always thought himself as lucky to have befriended one of the rare and fascinating Eldritch, a man who's served as partner in their counseling practice for years without Vasiht'h ever really learning anything of his background… so when Jahir invites him home for a cousin's wedding, he is eager for the chance to find out more about these enigmatic aliens, and his friend in particular.
Naturally, he gets more than he bargains for. By the end of his trip, he'll either know all Jahir's secrets…or he'll be dead…
The Long Way to a Small, Angry Planet by Becky Chambers
Follow a motley crew on an exciting journey through space—and one adventurous young explorer who discovers the meaning of family in the far reaches of the universe—in this light-hearted debut space opera from a rising sci-fi star.
Rosemary Harper doesn't expect much when she joins the crew of the aging Wayfarer. While the patched-up ship has seen better days, it offers her a bed, a chance to explore the far-off corners of the galaxy, and most importantly, some distance from her past. An introspective young woman who learned early to keep to herself, she's never met anyone remotely like the ship's diverse crew, including Sissix, the exotic reptilian pilot, chatty engineers Kizzy and Jenks who keep the ship running, and Ashby, their noble captain.
Life aboard the Wayfarer is chaotic and crazy—exactly what Rosemary wants. It's also about to get extremely dangerous when the crew is offered the job of a lifetime. Tunneling wormholes through space to a distant planet is definitely lucrative and will keep them comfortable for years. But risking her life wasn't part of the plan. In the far reaches of deep space, the tiny Wayfarer crew will confront a host of unexpected mishaps and thrilling adventures that force them to depend on each other. To survive, Rosemary's got to learn how to rely on this assortment of oddballs—an experience that teaches her about love and trust, and that having a family isn't necessarily the worst thing in the universe.
What do a disabled superhero, a time-traveling Chinese-American figure skater, and a transgendered animal shifter have in common? They're all stars of Kaleidoscope stories! Kaleidoscope collects fun, edgy, meditative, and hopeful YA science fiction and fantasy with diverse leads. These twenty original stories tell of scary futures, magical adventures, and the joys and heartbreaks of teenage life. Featuring New York Times bestselling and award winning authors along with newer voices: Garth Nix, Sofia Samatar, William Alexander, Karen Healey, E.C. Myers, Tansy Rayner Roberts, Ken Liu, Vylar Kaftan, Sean Williams, Amal El-Mohtar, Jim C. Hines, Faith Mudge, John Chu, Alena McNamara, Tim Susman, Gabriela Lee, Dirk Flinthart, Holly Kench, Sean Eads, and Shveta Thakrar
Downbelow Station by C.J. Cherryh
A legend among sci-fi readers, C. J. Cherryh's Union-Alliance novels, while separate and complete in themselves, are part of a much larger tapestry—a future history spanning 5,000 years of human civilization. A blockbuster space opera of the rebellion between Earth and its far-flung colonies, it is a classic science fiction masterwork.
So…Suggestions? Do I just have to move one or more of these to the top of my list?