Hosted by Jana over at That Artsy Reader Girl. (Absconded this idea from this blog.) So, this week is a freebie topic – something that I love and hate in equal measure. Usually what I do is a previous TTT topic – one that I missed or love – but this time around I wanted to talke books that need a sequel.
Standalones that Need a Sequel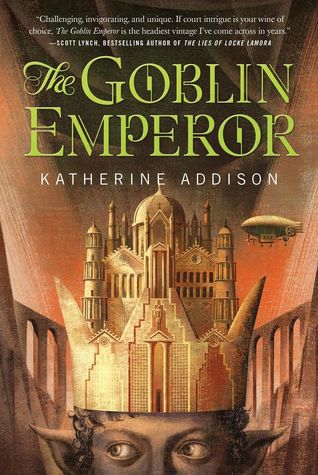 With a past too terrible to speak of, and a bleak, lonely future ahead of her, Aerin Renning is shocked to find she has earned a place at the most exclusive school in the universe. Aerin excels at Academy 7 in all but debate, where Dane Madousin?son of one of the most powerful men in the Alliance? consistently outtalks her. Fortunately Aerin consistently outwits him at sparring. They are at the top of their class until Dane jeopardizes everything and Aerin is unintentionally dragged down with him. When the pair is given a joint punishment, an unexpected friendship?and romance?begins to form. But Dane and Aerin both harbor dangerous secrets, and the two are linked in ways neither of them could ever have imagined…
Notes: Very nice character development, but this book has so much going on in the background. There's all kinds of talk as to what is going on in the wider world and I kept expecting our main characters to get pulled into it. They never do. I liked the book, but if it had been a series (2-4 books) I think I could have loved it.
The Goblin Emperor by Katherine Addison
The youngest, half-goblin son of the Emperor has lived his entire life in exile, distant from the Imperial Court and the deadly intrigue that suffuses it. But when his father and three sons in line for the throne are killed in an "accident," he has no choice but to take his place as the only surviving rightful heir.
Entirely unschooled in the art of court politics, he has no friends, no advisors, and the sure knowledge that whoever assassinated his father and brothers could make an attempt on his life at any moment.
Surrounded by sycophants eager to curry favor with the naïve new emperor, and overwhelmed by the burdens of his new life, he can trust nobody. Amid the swirl of plots to depose him, offers of arranged marriages, and the specter of the unknown conspirators who lurk in the shadows, he must quickly adjust to life as the Goblin Emperor. All the while, he is alone, and trying to find even a single friend… and hoping for the possibility of romance, yet also vigilant against the unseen enemies that threaten him, lest he lose his throne – or his life.
Notes: Honestly, with the complicated world building and the deep characters and political story, I'm surprised this isn't a series. It totally could be – even if the tale feels complete as is. (And, really, I just want this author to write more in this world.)
Hollow World by Michael J. Sullivan
The future is coming…for some, sooner than others.
Ellis Rogers is an ordinary man who is about to embark on an extraordinary journey. All his life he has played it safe and done the right thing, but when faced with a terminal illness, he's willing to take an insane gamble. He's built a time machine in his garage, and if it works, he'll face a world that challenges his understanding of what it means to be human, what it takes to love, and the cost of paradise. He could find more than a cure for his illness; he might find what everyone has been searching for since time began…but only if he can survive Hollow World.
Notes: While I love Sullivan's fantasy work, this book is without a doubt my favorite of his. I love the world that he created and would love to spend more time with the characters.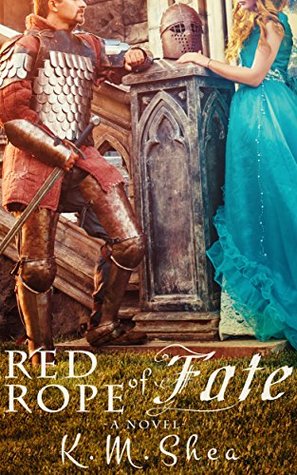 A girl with a clockwork heart must make every second count.
When Penny Farthing nearly dies, brilliant surgeon Calvin Warwick manages to implant a brass "Ticker" in her chest, transforming her into the first of the Augmented. But soon it's discovered that Warwick killed dozens of people as he strove to perfect another improved Ticker for Penny, and he's put on trial for mass murder.
On the last day of Warwick's trial, the Farthings' factory is bombed, Penny's parents disappear, and Penny and her brother, Nic, receive a ransom note demanding all of their Augmentation research if they want to see their parents again. Is someone trying to destroy the Farthings…or is the motive more sinister?
Desperate to reunite their family and rescue their research, Penny and her brother recruit fiery baker Violet Nesselrode, gentleman-about-town Sebastian Stirling, and Marcus Kingsley, a young army general who has his own reasons for wanting to lift the veil between this world and the next. Wagers are placed, friends are lost, romance stages an ambush, and time is running out for the girl with the clockwork heart.
Notes: Not really sure where this could even go as a series, but I totally don't care because it would probably be awesome. (Also, it'll probably never even happen because it's pretty much hated at Goodreads.)
In a land where humans and elves find it difficult to communicate, Tari—an elf—is bound to Captain Arion—a human military officer—in a ceremony designed to promote friendship between the two races. When the ceremony is over the pair discover that the impossible has happened: they can understand each other in spite of the language barrier.
Thrown into a storm of politics, Tari and Arion are put in danger by those who want humans and elves to remain separate.
To make matters worse, Tari realizes she has fallen in love with Arion, who has the emotional capabilities of a rock. As both societies dictate that an elf and a human can never be together, Tari must conceal her feelings. Unfortunately the taciturn Arion is watchful and attentive to Tari's well being, constantly pushing her to her limits with his loyalty, friendship, and dreadfully informal habit of touching her.
If Tari and Arion survive, their tumultuous relationship will either strengthen their countries' alliance, or cripple the human courts of nobility. The deciding factor will be Arion, and his indecipherable feelings for Tari.
Notes: I'd totally love a sequel to this book, seeing the characters again would be awesome, and there's enough political stuff in here that makes me think not everything would be smooth sailing.
The Friday Society by Adrienne Kress
An action-packed tale of gowns, guys, guns–and the heroines who use them all
Set in turn of the century London, The Friday Society follows the stories of three very intelligent and talented young women, all of whom are assistants to powerful men: Cora, lab assistant; Michiko, Japanese fight assistant; and Nellie, magician's assistant. The three young women's lives become inexorably intertwined after a chance meeting at a ball that ends with the discovery of a murdered mystery man.
It's up to these three, in their own charming but bold way, to solve the murder–and the crimes they believe may be connected to it–without calling too much attention to themselves.
Set in the past but with a modern irreverent flare, this Steampunk whodunit introduces three unforgettable and very ladylike–well, relatively ladylike–heroines poised for more dangerous adventures.
Notes: Loved this book and the only thing that would make it better is if there was a sequel. Especially considering that the ending is the PERFECT set up for a sequel. (Seriously, p.e.r.f.e.c.t.)
Series that Can't be Over (they just can't)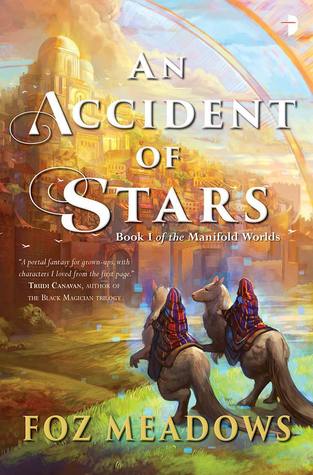 The Manifold Worlds by Foz Meadows
(An Accident of Stars & A Tyranny of Queens) (Synopsis from AAoS)
When Saffron Coulter stumbles through a hole in reality, she finds herself trapped in Kena, a magical realm on the brink of civil war.
There, her fate becomes intertwined with that of three very different women: Zech, the fast-thinking acolyte of a cunning, powerful exile; Viya, the spoiled, runaway consort of the empire-building ruler, Vex Leoden; and Gwen, an Earth-born worldwalker whose greatest regret is putting Leoden on the throne. But Leoden has allies, too, chief among them the Vex'Mara Kadeja, a dangerous ex-priestess who shares his dreams of conquest.
Pursued by Leoden and aided by the Shavaktiin, a secretive order of storytellers and mystics, the rebels flee to Veksh, a neighboring matriarchy ruled by the fearsome Council of Queens. Saffron is out of her world and out of her depth, but the further she travels, the more she finds herself bound to her friends with ties of blood and magic.
Can one girl – an accidental worldwalker – really be the key to saving Kena? Or will she just die trying?
Notes: This is my current (and, quite possibly, all time) favorite fantasy series because of the character depth and development, the strong feminist message, the excellent LGBT+ representation and the racial diversity. I love this series and desperately want another book in the series – even if the story does feel complete. (Or, maybe, just more books from Meadows.)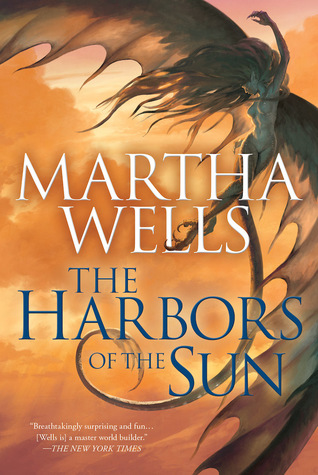 The Books of the Raksura by Martha Wells
(The Cloud Roads & The Serpent Sea & The Siren Depths & The Edge of Worlds & The Harbors of the Sun) (Synopsis from TCR.)
Moon has spent his life hiding what he is — a shape-shifter able to transform himself into a winged creature of flight. An orphan with only vague memories of his own kind, Moon tries to fit in among the tribes of his river valley, with mixed success. Just as Moon is once again cast out by his adopted tribe, he discovers a shape-shifter like himself… someone who seems to know exactly what he is, who promises that Moon will be welcomed into his community. What this stranger doesn't tell Moon is that his presence will tip the balance of power… that his extraordinary lineage is crucial to the colony's survival… and that his people face extinction at the hands of the dreaded Fell! Now Moon must overcome a lifetime of conditioning in order to save and himself… and his newfound kin.
Notes: One of my favorite fantasy series, it features fly lizard style shifters in a truly alien setting/mentality. (They're not just 'rubber forehead aliens.') As well as a matriarchal society, racial diversity and open and/or poly romantic relationships. (It also started out as a trilogy then two more books were added, so this might actually happen some day.)
Okay, so that's only eight, but, still. I'd love any of these to get a sequel. (Or a continuing series, or whatever you want to call it.)