Hosted by Jana over at That Artsy Reader Girl. I usually do really good at NOT leaving books on my physical or virtual TBR for a long time. I have even been known (not this year, but the two previous ones) to go through my virtual TBR with a read-it-or-loose-it mentality. So, I don't actually have any books on my TBR (either of them) that have been there since before 2016. That being said, that was two years ago, so I should probably hit the read-it-or-loose-it again.
Unearthed by Amie Kaufman & Meagan Spooner
When Earth intercepts a message from a long-extinct alien race, it seems like the solution the planet has been waiting for. The Undying's advanced technology has the potential to undo environmental damage and turn lives around, and Gaia, their former home planet, is a treasure trove waiting to be uncovered.
For Jules Addison and his fellow scholars, the discovery of an alien culture offers unprecedented opportunity for study… as long as scavengers like Amelia Radcliffe don't loot everything first. Mia and Jules' different reasons for smuggling themselves onto Gaia put them immediately at odds, but after escaping a dangerous confrontation with other scavvers, they form a fragile alliance.
In order to penetrate the Undying temple and reach the tech and information hidden within, the two must decode the ancient race's secrets and survive their traps. But the more they learn about the Undying, the more their presence in the temple seems to be part of a grand design that could spell the end of the human race…
(My excuse is that it was on my TBR for ten months before it was released, but it totally still counts. Right?)
A Vanishing Glow by Alexis Radcliff
When the High Sovereign of the five kingdoms of Ghavarim is murdered by a mysterious assassin, the realm is plunged into chaos. Jason Tern, a noble captain with a tragic past, must battle shadowy assailants and untangle an ever-widening web of lies to discover the true identity of the killer before mounting tensions spark a bloody civil war.
Meanwhile, Nilya Valsu, a talented army engineer with a broken heart, finds herself used as an unwitting pawn in a plot that has deadly consequences. Wracked by guilt, her sole chance for redemption lies with a man who would loathe her – but only if he knew her secret.
As the conflict intensifies between the magic-fueled technology of the West and the disaffected rebels of the East, all must fight for what they hold dear. Who will reign victorious and who will lie bloodied on the ground in the light of a vanishing glow?
Seventeen-year-old Anglet Sutonga, makes a living repairing the chimneys, towers, and spires of Bar-Selehm. Dramatically different communities live and work alongside one another. The white Feldish command the nation's higher echelons of society; the native Mahweni are divided between city life and the savannah. And then there's Ang, part of the Lani community who immigrated there generations ago and now mostly live in poverty on Bar-Selehm's edges.
When Ang is supposed to meet her new apprentice, Berrit, she finds him dead. That same night the Beacon, an invaluable historical icon, is stolen. The Beacon's theft commands the headlines, yet no one seems to care about Berrit's murder—except for Josiah Willinghouse, an enigmatic young politician. When he offers Ang a job investigating the death, she plunges headlong into new and unexpected dangers.
Meanwhile, crowds gather in protests over the city's mounting troubles. Rumors surrounding the Beacon's theft grow. More suspicious deaths occur. With no one to help Ang except Josiah's haughty younger sister, a savvy newspaper girl, and a kindhearted herder, Ang must rely on her intellect and strength to resolve the mysterious link between Berrit and the missing Beacon before the city descends into chaos.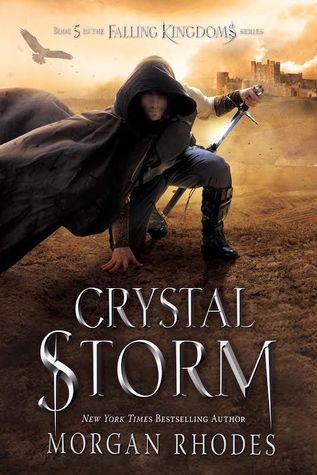 The Long Way Home by Sabrina Chase
Webspace pilot Moire Cameron is one of the best–but even she can't fly her way out of a catastrophic drive failure that triggers a time-dilation bubble. Left suddenly eighty years out of date, she is on the run in a world she no longer knows, caught in the middle of a human-alien war while agents of Toren hunt her for the information only she has–the location of the pristine world of Sequoyah.
The Long Way Home is the first book in the Sequoyah trilogy.
Crystal Storm by Morgan Rhodes
The ruthless Empress Amara of Kraeshia has taken the Mytican throne, and now uncertainty looms over the three kingdoms. Since Lucia unleashed the fire Kindred, wreaking havoc throughout the land, Myticans have been looking for someone—anyone—they can trust. They believe in Amara, not knowing her grand promises are built on lies.
In Paelsia, Magnus and Cleo reluctantly follow King Gaius to the home of his exiled mother, Selia. Selia is a powerful witch and claims she can help unlock the magic of the Kindred—if the visitors agree to her terms. When Jonas arrives from Kraeshia, he is shocked to find that his rebel army now includes his sworn enemies. Along with Nic, Felix, and the mysteriously resurrected Ashur, the contentious group agrees to cast aside old grudges—for now—and united against their common enemy: Amara.
Meanwhile, bearing the child of a Watcher and feared by all, Princess Lucia travels across Mytica to find her family. But time is running out. The impending storm signals the dark prophecy Timotheus warned her about. Her fate is written, and it includes none other than the rebel Jonas. When their paths collied, Jonas and Lucia must decide between blindly following their destiny or fighting for their own free will.
The battle for power culminates at the Paelsian palace, where Amara resides. Rain pours. Blood spills. And soon all will discover that the darkest magic comes at an even darker price.
When Earth is rocked by evidence that extraterrestrials may have seeded human DNA throughout the universe, a one-way expedition into deep space is mounted to uncover the truth. What linguist Meg Dupris and her crewmates aboard the Earth ship Damocles discover on Didet—a planet bathed in the near-eternal daylight of seven suns—is a humanoid race with a different language, a different look, and a surprisingly similar society.
But here, it's the "Earthers" who are the extraterrestrial invaders, and it's up to Meg—a woman haunted by tragedy and obsessed with the power of communication—to find the key to establishing trust between the natives and the newcomers. In Loul Pell, a young Dideto male thrust into the forefront of the historic event, Meg finds an unexpected kindred spirit, and undertakes an extraordinary journey of discovery, friendship, and life-altering knowledge.
Told from both sides of a monumental encounter, Damocles is a compelling novel about man's first contact with an extraterrestrial race.
Range of Ghosts by Elizabeth Bear
Temur, grandson of the Great Khan, is walking away from a battlefield where he was left for dead. All around lie the fallen armies of his cousin and his brother, who made war to rule the Khaganate. Temur is now the legitimate heir by blood to his grandfather's throne, but he is not the strongest. Going into exile is the only way to survive his ruthless cousin.
Once-Princess Samarkar is climbing the thousand steps of the Citadel of the Wizards of Tsarepheth. She was heir to the Rasan Empire until her father got a son on a new wife. Then she was sent to be the wife of a Prince in Song, but that marriage ended in battle and blood. Now she has renounced her worldly power to seek the magical power of the wizards.
These two will come together to stand against the hidden cult that has so carefully brought all the empires of the Celadon Highway to strife and civil war through guile and deceit and sorcerous power
Poison or Protect by Gail Carriger
London's most scandalous lady assassin versus one very hot Highlander.
Lady Preshea Villentia, the Mourning Star, has four dead husbands and a nasty reputation. Fortunately, she looks fabulous in black.
What society doesn't know is that all her husbands were marked for death by Preshea's employer. And Preshea has one final assignment.
It was supposed to be easy, a house party with minimal bloodshed. Preshea hadn't anticipated Captain Gavin Ruthven – massive, Scottish, quietly irresistible, and… working for the enemy.
In a battle of wits, Preshea may risk her own heart – a terrifying prospect, as she never knew she had one.
New York Times bestselling author Gail Carriger presents a charming love story set in her popular steampunk Parasolverse. May contain plaid, appearances from favorite characters, and the strategic application of leather gloves.
The Delightfully Deadly novellas stand alone and may be read in any order.
Delicate Sensibilities?
Contains men pleasing women, and ladies who know what they want and ask for it, sometimes in detail.
Though she doesn't know her real name, Thirteen is sure of two things: survival and finding her sister. Nothing stands in her way—not the great Pacifica Ice Sheet nor the slavers she escaped—until her deadly hunt takes a maddening turn.
The first and only clue in her search is held by the survivor of a wrecked ice ship. But he's not sharing. He has a daughter to rescue, and he needs Thirteen's help.
In the unforgiving subzero, a wary alliance is formed. Although she'd do anything to find her sister and finally know her own name, Thirteen never forgets the first rule of the ice. You only get one mistake—your last.
Wings of Equity by Sean Kennedy
The truth is that those who make a difference usually get martyred. What good are you dead?
Ezra Kneebone is most at home in the skies, piloting his airship with his best friend Jazz, even if it doesn't quite pay the bills or warm Ezra's empty bed. Those same skies are also the territory of a man known as Icarus, who uses his metal wings to steal from the rich and feed the poor. Icarus and Ezra could be soul mates but for one thing: Icarus has a bounty on his head, and Ezra is desperate for money.
Against the wishes of Jazz and her partner, the formidable Lady Bart, Ezra is determined to get his man… in more ways than one. But when Icarus saves Ezra's life, Ezra realizes he would be betraying a hero—and his heart—if he turned Icarus in. Unfortunately, the bounty is tempting more than one hunter, and Ezra will find that loving a fugitive may mean becoming one too.
Advice? Suggestions? Help me because I look at some/most of these books and think there must be a reason that they've remained unread this long. In other words, tell me your thoughts on them if you've read any of them and help me decide if I should read them or ignore them for another year and probably never read it.