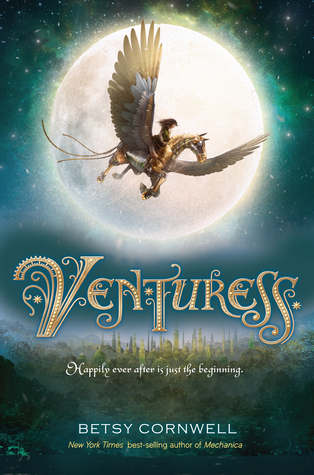 Venturess is the sequel to the awesome steampunk retelling of Cinderella, Mechanica. (This review will contain some spoilers for the romance outcome from Mechanica.)
Venturess on Goodreads
Mechanica on Goodreads
But I had worked hard since then to mend my heart and remake my understanding of love and family from the simple, binary ideas I'd had before. Fin and I weren't the starry-eyed couple I'd dreamed of last winter, true; we were simply a unit, together with our Caro. We were three people who loved and needed one another, and it was as easy and as hard as that.
Nicolette got her happily ever after, even if it might not have been what anyone expected. Now she's a well known, well respected inventor, happy with her family and Jules, her mechanical horse.
But war is brewing and when an attack is made on Prince Fin's life, Nick, Fin and Caro get thrown right into the middle of it in an effort to save the land of Faerie.
Honestly, the easiest thing to say about this book was that I liked it, but didn't love it. The biggest reason I was excited for it was the relationship between Nick, Caro and Fin. I don't know how to describe it and, wonderfully enough, there's never a name put to it.
It definitely was lovely though, and seeing them work together and love and trust each other was beautiful. Without a doubt it was my favorite thing in the story.
But this book was surprisingly different then the previous. That's not necessarily a bad thing, but I was expecting more in the way of slow moving character development and was quite surprised at the amount of death in this book and how truly unpleasant things get.
Nick has continued to grow as a person and, honestly, shows a lot of development that I might not have credited her with. She's brave and strong, but she also leans on her friends – who, in turn, lean on her. (Once again, love those three together.)
She's faced with several trials through the story (several twists) that I think she handled wonderfully. Well, for the most part. I don't think running away from your problems helps anything, but she dealt with them eventually and stayed true to herself.
The twists were…well, the first one was obvious. I wasn't sure what the explanation would be, but I did see it coming from very early on it the book. I kind of think that it maybe wasn't supposed to be a surprise because it was followed up with another twist almost immediately. (That one I didn't see coming.)
Over all, a lot of questions were answered, it was nice to see Faerie, closure was had, and I still wanted to know more of what Nick, Caro and Fin were doing. (Also, I have to say, I adore the Faerie culture. They understand Nick's relationship in a way that humans won't and it was so lovely.)
Content Advisory: Nothing explicit. Some mentions of torture. Talk of death and animal death. Nightmares. Implied death. Really, all the even vaguely unpleasant things are mostly left up to your imagination – and I have a VERY active imagination so I imagine worse than it probably truly was.