What's a pleasant way to admit that I've been failing wonderfully at TBR's? I mean, I did great at first, then all last month I read hardly anything that was on any TBR. *sigh* Even the books I've been really interested in couldn't capture my attention. (And as I'm writing this, I've got about a dozen books on my kindle that I've popped open and 'started' to read – and the count is below ten percent.) Urg. Anyway, I'm going to try this month. I'm going to try. (And quite possibly fail, but I will try.)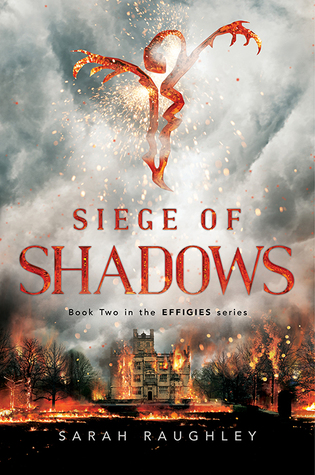 Three Parts Dead by Max Gladstone
A god has died, and it's up to Tara, first-year associate in the international necromantic firm of Kelethres, Albrecht, and Ao, to bring Him back to life before His city falls apart.
Her client is Kos, recently deceased fire god of the city of Alt Coulumb. Without Him, the metropolis's steam generators will shut down, its trains will cease running, and its four million citizens will riot.
Tara's job: resurrect Kos before chaos sets in. Her only help: Abelard, a chain-smoking priest of the dead god, who's having an understandable crisis of faith.
When Tara and Abelard discover that Kos was murdered, they have to make a case in Alt Coulumb's courts—and their quest for the truth endangers their partnership, their lives, and Alt Coulumb's slim hope of survival.
Set in a phenomenally built world in which justice is a collective force bestowed on a few, craftsmen fly on lightning bolts, and gargoyles can rule cities, Three Parts Dead introduces readers to an ethical landscape in which the line between right and wrong blurs.
The Pirate of Fathoms Deep by Megan Derr
High Commander Lesto Arseni is the most feared man in the Harken Empire. None but the High King dares risk his wrath—and a pirate who once punched him in the middle of the imperial pavilion. A pirate who later snuck away with Lesto to an empty room, touched him in ways far more memorable. And then immediately bolted like a man who'd gotten what he wanted.
Shemal just wants to live a normal life, leave his pirating days behind him and prove that he's respectable now. The last thing he needs is the two idiots who show up wanting his help with the noble they've kidnapped—the very man Shemal had been hoping to prove himself to, the man he hasn't forgotten since Shemal punched him a year and a half ago.
Siege of Shadows by Sarah Raughley
There's nowhere to hide.
Not when you're an Effigy. No matter where they go, Maia and the other Effigies can't escape the eyes of the press—especially not after failing to capture Saul, whose power to control the monstrous Phantoms has left the world in a state of panic. It's been two months since Saul's disappearance, and there's still no sign of him, leaving the public to wonder whether the Sect—and the Effigies—are capable of protecting anyone.
When Saul suddenly surfaces in the middle of the Sahara desert, the Sect sends Maia and her friends out after him. But instead of Saul, they discover a dying soldier engineered with Effigy-like abilities. Even worse, there may be more soldiers like him out there, and it looks like the Effigies are their prime targets.
Yet the looming danger of Saul and this mysterious new army doesn't overshadow Maia's fear of the Sect, who ordered the death of the previous Fire Effigy, Natalya. With enemies on all sides and the world turning against them, the Effigies have to put their trust in each other—easier said than done when secrets threaten to tear them apart.
The Duchess War by Courtney Milan
Sometimes love is an accident.
This time, it's a strategy.
Miss Minerva Lane is a quiet, bespectacled wallflower, and she wants to keep it that way. After all, the last time she was the center of attention, it ended badly–so badly that she changed her name to escape her scandalous past. Wallflowers may not be the prettiest of blooms, but at least they don't get trampled. So when a handsome duke comes to town, the last thing she wants is his attention.
But that is precisely what she gets.
Because Robert Blaisdell, the Duke of Clermont, is not fooled. When Minnie figures out what he's up to, he realizes there is more to her than her spectacles and her quiet ways. And he's determined to lay her every secret bare before she can discover his. But this time, one shy miss may prove to be more than his match…
The Stowaway Debutante by Rebecca Diem
Airships, pirates, and hidden identities…
When Clara dreamed of running away to seek her own adventures, she never imagined that a chance encounter with the legendary Captain Duke might set her life on an entirely different course.
Armed with her wit and charm, Clara can usually talk her way out of any troubles. But first, she has to get back to solid ground…
It Takes Two to Tumble by Cat Sebastian
Some of Ben Sedgwick's favorite things:
Helping his poor parishioners
Baby animals
Shamelessly flirting with the handsome Captain Phillip Dacre
After an unconventional upbringing, Ben is perfectly content with the quiet, predictable life of a country vicar, free of strife or turmoil. When he's asked to look after an absent naval captain's three wild children, he reluctantly agrees, but instantly falls for the hellions. And when their stern but gloriously handsome father arrives, Ben is tempted in ways that make him doubt everything.
Some of Phillip Dacre's favorite things:
His ship
People doing precisely as they're told
Touching the irresistible vicar at every opportunity

Phillip can't wait to leave England's shores and be back on his ship, away from the grief that haunts him. But his children have driven off a succession of governesses and tutors and he must set things right. The unexpected presence of the cheerful, adorable vicar sets his world on its head and now he can't seem to live without Ben's winning smiles or devastating kisses.
In the midst of runaway children, a plot to blackmail Ben's family, and torturous nights of pleasure, Ben and Phillip must decide if a safe life is worth losing the one thing that makes them come alive.
Wish me luck because I think I'm going to need it. Have you read any of these books?