While I didn't do too bad with my November TBR (four out of six and I was in the middle of the fifth one when November ended) I'm hoping I actually read all these books this time around. (Side/related note: I'm writing this the last week in November but won't get to post it until the first full week in December so I'm hoping that by the time this goes live I'll have at least made a dent in one of these.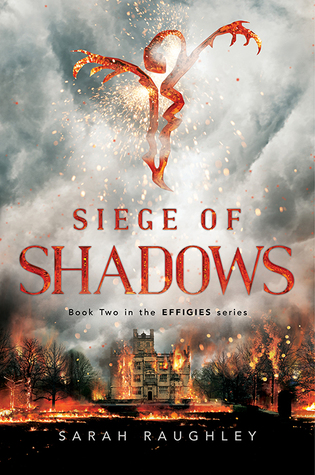 Siege of Shadows by Sarah Raughley
There's nowhere to hide.
Not when you're an Effigy. No matter where they go, Maia and the other Effigies can't escape the eyes of the press—especially not after failing to capture Saul, whose power to control the monstrous Phantoms has left the world in a state of panic. It's been two months since Saul's disappearance, and there's still no sign of him, leaving the public to wonder whether the Sect—and the Effigies—are capable of protecting anyone.
When Saul suddenly surfaces in the middle of the Sahara desert, the Sect sends Maia and her friends out after him. But instead of Saul, they discover a dying soldier engineered with Effigy-like abilities. Even worse, there may be more soldiers like him out there, and it looks like the Effigies are their prime targets.
Yet the looming danger of Saul and this mysterious new army doesn't overshadow Maia's fear of the Sect, who ordered the death of the previous Fire Effigy, Natalya. With enemies on all sides and the world turning against them, the Effigies have to put their trust in each other—easier said than done when secrets threaten to tear them apart.
I am so super excited for this book – I even ordered it the very day it released which is something I never do. (Okay, the only other time I tried it, Amazon was out of stock.) I really liked the first book in the series and have high hopes that I'm going to love this one.
The Disappearance of Winter's Daughter by Michael J. Sullivan
Caught between his partner's moral compass and a father's desire for vengeance, will Royce turn the rivers of Rochelle red?
When Gabriel Winter's daughter mysteriously disappears and is presumed dead, the wealthy whiskey baron seeks revenge. Having lived in Colnora during the infamous Year of Fear, he hires the one man he knows can deliver a bloody retribution—the notorious Duster.
Ride with Royce and Hadrian as the cynical ex-assassin and idealistic ex-mercenary travel to a mysterious old-world city filled with nobles claiming descent from imperial aristocracy. Riyria's job appears easy: discover what happened to the missing duchess and, if she lives, bring her home . . . if not, punish those responsible. But nothing is simple in the crowded, narrow, mist-filled streets of Rochelle, where more than one ancient legend lurks.
I actually supported the hardcover release on Kickstarter, so I get to read this book six months before the official release date. (That and the cool merch I bought sealed the deal for me.) Anyway, I've not gotten this book yet, but I'm sure I'll be reading it about as soon as I do.
A Rose Point Holiday by M.C.A. Hogarth
With the Eldritch civil war over, a castle to renovate, and a wedding to prepare for, the last thing Reese is thinking about is taking a break. But the new year is coming and the Eldritch take their holidays very seriously, so Reese decides it can't hurt to observe the local proprieties. Who knows? Maybe it'll make good practice for what Felith is calling the wedding of the century. Of course, that was before Reese realized it was going to involve gifts. And decorating. And a town full of recalcitrant Eldritch tenants who have no reason to trust her…
"A Rose Point Holiday" is a short, pastoral novel set during the last days before Reese becomes Theresa Laisrathera Eddings, lady of Rose Point Castle and the surrounding lands of Firilith. The Eldritch have never seen a holiday quite like this one!
I am very happy to finally be getting to this book. I wanted to put it of for Holiday time and in the process I've been perusing the next book/s by this author that I'm going to be buying.
Simon and the Christmas Spirit by Devon & Dee
The holiday spirit has forsaken Simon Harris. A recent reminder of the man who used then left him sends lonely Simon on a glum visit to his club to while away a few hours. A breath of fresh air in the form of Christopher Andrews is about to enter his stale life.
Performer of many talents and faces, Christopher gained entrée into the club to win money at cards. Unfortunately, he's losing. But the evening needn't be a complete disappointment as he strikes up a friendship with a gentleman which ends in a bedroom.
Simon and Christopher enjoy a few hours of pleasure together, never expecting to see each other again, but Simon's newfound resolution to change might just transform both their holidays.
I wanted at least one pointless, fluffy romance book with a Christmas theme – and not wanting it contemporary made it more difficult than I thought it would be – but this one sounds like it'll fit the bill nicely.
The Drowning Eyes by Emily Foster
When the Dragon Ships began to tear through the trade lanes and ravage coastal towns, the hopes of the archipelago turned to the Windspeakers on Tash. The solemn weather-shapers with their eyes of stone can steal the breeze from raiders' sails and save the islands from their wrath. But the Windspeakers' magic has been stolen, and only their young apprentice Shina can bring their power back and save her people.
Tazir has seen more than her share of storms and pirates in her many years as captain, and she's not much interested in getting involved in the affairs of Windspeakers and Dragon Ships. Shina's caught her eye, but that might not be enough to convince the grizzled sailor to risk her ship, her crew, and her neck.
This book has been on my TBR so long I forgot why I was so excited about it. (POC and f/f romance!) Now that I have been reminded, I am super excited to get started on it. And it's a novella so I should blaze through it.
A Tyranny of Queens by Foz Meadows
Saffron Coulter has returned from the fantasy kingdom of Kena. Threatened with a stay in psychiatric care, Saffron has to make a choice: to forget about Kena and fit back into the life she's outgrown, or pit herself against everything she's ever known and everyone she loves.
Meanwhile in Kena, Gwen is increasingly troubled by the absence of Leoden, cruel ruler of the kingdom, and his plans for the captive worldwalkers, while Yena, still in Veksh, must confront the deposed Kadeja. What is their endgame? Who can they trust? And what will happen when Leoden returns?
Besides my general nerves (I loved the first book, can this one be as good?) I have also been putting it off because I don't know when/if there will be a third in the series. But, in my effort of finishing (or catching up on) lurking series, I would like to read it before the year ends.
What books do you plan to/have read this month? Interested in any of these?