Hosted by the lovely people over at The Broke and the Bookish.
Because I'm never having kids, (and, really, my siblings are getting a bit long in the tooth to be thinking about having kids of their own, but it's still more likely than me having kids) I decided to go with books I'd give to my future nieces and nephews to read. Specifically, I'm thinking early to mid teens, so 13-15. (And these choices are the reason my sister would never let me give/lend her kids books. And my brother would just wave his hand and say 'whatever'.) What I tried to do was pick out the books that I thought had a good message for teens everyone and would expand their horizons. Of course, I'm also hoping that by the time thirteen years pass that these type of books will become the norm and it won't be so hard to find books that give good messages.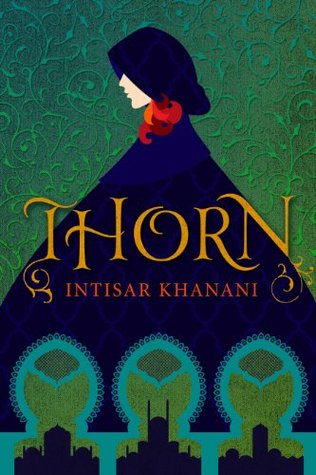 Simon vs. the Homo Sapiens Agenda by Becky Albertalli
Sixteen-year-old and not-so-openly gay Simon Spier prefers to save his drama for the school musical. But when an email falls into the wrong hands, his secret is at risk of being thrust into the spotlight. Now Simon is actually being blackmailed: if he doesn't play wingman for class clown Martin, his sexual identity will become everyone's business. Worse, the privacy of Blue, the pen name of the boy he's been emailing, will be compromised.
With some messy dynamics emerging in his once tight-knit group of friends, and his email correspondence with Blue growing more flirtatious every day, Simon's junior year has suddenly gotten all kinds of complicated. Now, change-averse Simon has to find a way to step out of his comfort zone before he's pushed out—without alienating his friends, compromising himself, or fumbling a shot at happiness with the most confusing, adorable guy he's never met.
A Tyranny of Petticoats Anthology
Criss-cross America — on dogsleds and ships, stagecoaches and trains — from pirate ships off the coast of the Carolinas to the peace, love, and protests of 1960s Chicago. Join fifteen of today's most talented writers of young adult literature on a thrill ride through history with American girls charting their own course. They are monsters and mediums, bodyguards and barkeeps, screenwriters and schoolteachers, heiresses and hobos. They're making their own way in often-hostile lands, using every weapon in their arsenals, facing down murderers and marriage proposals. And they all have a story to tell.
For Princess Alyrra, choice is a luxury she's never had … until she's betrayed.
Princess Alyrra has never enjoyed the security or power of her rank. Between her family's cruelty and the court's contempt, she has spent her life in the shadows. Forced to marry a powerful foreign prince, Alyrra embarks on a journey to meet her betrothed with little hope for a better future.
But powerful men have powerful enemies–and now, so does Alyrra. Betrayed during a magical attack, her identity is switched with another woman's, giving Alyrra the first choice she's ever had: to start a new life for herself or fight for a prince she's never met. But Alyrra soon finds that Prince Kestrin is not at all what she expected. While walking away will cost Kestrin his life, returning to the court may cost Alyrra her own. As Alyrra is coming to realize, sometime the hardest choice means learning to trust herself.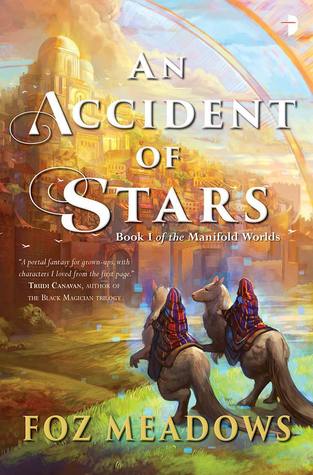 An Accident of Stars by Foz Meadows
When Saffron Coulter stumbles through a hole in reality, she finds herself trapped in Kena, a magical realm on the brink of civil war.
There, her fate becomes intertwined with that of three very different women: Zech, the fast-thinking acolyte of a cunning, powerful exile; Viya, the spoiled, runaway consort of the empire-building ruler, Vex Leoden; and Gwen, an Earth-born worldwalker whose greatest regret is putting Leoden on the throne. But Leoden has allies, too, chief among them the Vex'Mara Kadeja, a dangerous ex-priestess who shares his dreams of conquest.
Pursued by Leoden and aided by the Shavaktiin, a secretive order of storytellers and mystics, the rebels flee to Veksh, a neighboring matriarchy ruled by the fearsome Council of Queens. Saffron is out of her world and out of her depth, but the further she travels, the more she finds herself bound to her friends with ties of blood and magic.
Can one girl – an accidental worldwalker – really be the key to saving Kena? Or will she just die trying?
(One of the more mature books on this list, due to violence and language so I'd err more on the side of 15.)
I was in an accident. I got out. I'm safe now.
An alternate Victorian world controlled by clock towers, where a damaged clock can fracture time—and a destroyed one can stop it completely.
A prodigy mechanic who can repair not only clockwork but time itself, determined to rescue his father from a Stopped town.
A series of mysterious bombings that could jeopardize all of England.
A boy who would give anything to relive his past, and one who would give anything to live at all.
A romance that will shake the very foundations of time.
Daybreak Rising by Kiran Oliver
Celosia Brennan was supposed to be a hero. After a spectacular failure that cost her people their freedom, she is offered a once-in-a-lifetime chance at redemption. Together with a gifted team of rebels, she not only sets her sights on freedom, but defeating her personal demons along the way.
Now branded a failure, Celosia desperately volunteers for the next mission: taking down the corrupt Council with a team of her fellow elementally gifted mages. Leading the Ember Operative gives Celosia her last hope at redemption. They seek to overthrow the Council once and for all, this time bringing the fight to Valeria, the largest city under the Council's iron grip. But Celosia's new teammates don't trust her—except for Ianthe, a powerful Ice Elementalist who happens to believe in second chances.
With Council spies, uncontrolled magic, and the distraction of unexpected love, Celosia will have to win the trust of her teammates and push her abilities to the breaking point to complete the Ember Operative. Except if she falters this time, there won't be any Elementalists left to stop the Council from taking over not just their country, but the entire world.
(The other more mature book on this list, due to non-explicit sex. Once again, I'd err more towards 15.)
The Cloud Roads by Martha Wells
Moon has spent his life hiding what he is — a shape-shifter able to transform himself into a winged creature of flight. An orphan with only vague memories of his own kind, Moon tries to fit in among the tribes of his river valley, with mixed success. Just as Moon is once again cast out by his adopted tribe, he discovers a shape-shifter like himself… someone who seems to know exactly what he is, who promises that Moon will be welcomed into his community. What this stranger doesn't tell Moon is that his presence will tip the balance of power… that his extraordinary lineage is crucial to the colony's survival… and that his people face extinction at the hands of the dreaded Fell! Now Moon must overcome a lifetime of conditioning in order to save and himself… and his newfound kin.
Fate of Flames by Sarah Raughley
Years ago, everything changed. Phantoms, massive beasts of nightmare, began terrorizing the world. At the same time four girls, the Effigies, appeared, each with the unique power to control a classical element. Since then, they have protected the world from the Phantoms. At the death of one Effigy, another is chosen, pulled from her normal life into the never-ending battle.
When Maia unexpectedly becomes the next Fire Effigy, she resists her new calling. A quiet girl with few friends and almost no family, she was much happier to admire the Effigies from afar. Never did she imagine having to master her ability to control fire, to protect innocent citizens from the Phantoms, or to try bringing together the other three Effigies.
But with the arrival of the mysterious Saul—a man who seems to be able to control the Phantoms using the same cosmic power previously only granted to four girls at a time—Maia and the other Effigies must learn to work together in a world where their celebrity is more important than their heroism.
But the secrets Saul has, and the power he possesses, might be more than even they can handle…
The Stepsister Scheme by Jim C. Hines
You know how all those old fairy tales take you through lots of scary adventures till you finally reach that inevitable line: "And they lived happily ever after…" Guess what? It's not true. Life in never-never land isn't all sweetness and light. Cinderella – whose real name is Danielle Whiteshore (nee Danielle de Glas) – does marry Prince Armand. And (if you can ignore the pigeon incident) their wedding is a dream-come-true.
But not long after the "happily ever after," Danielle is attacked by her stepsister Charlotte, who suddenly has all sorts of magic to call upon. And though Talia – otherwise known as Sleeping Beauty – comes to the rescue (she's a martial arts master, and all those fairy blessings make her almost unbeatable), Charlotte gets away.
That's when Danielle discovers a number of disturbing facts: Armand has been kidnapped and taken to the realm of the Fairies; Danielle is pregnant with his child; and the Queen has her very own Secret Service that consists of Talia and Snow (White, of course). Snow is an expert at mirror magic and heavy-duty flirting.
Can three princesses track down Armand and extract both the prince and themselves from the clutches of some of fantasyland's most nefarious villains?
While I was putting this list together, I almost started to wish that I read more contemporary books. I've got this idea in my head that teens of this age bracket are more into contemporary than speculative fiction. I know I was about fourteen when I first started reading fantasy, before that it was all mysteries. Is this actually a thing? Are you 13-15 or do you know people that age and what do they like to read?