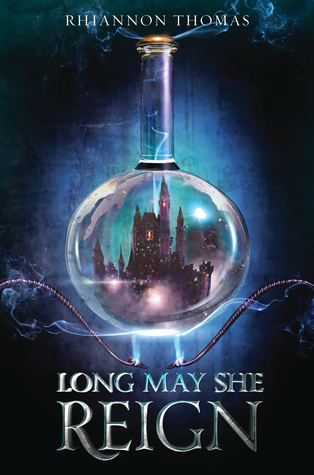 Long May She Reign is a standalone, young adult fantasy novel with a book smart leading lady trying to survive and hang on to her throne after a mass poisoning.
Long May She Reign on Goodreads
I was done pretending. The court had been shattered, and we couldn't rebuild it, not without a million cracks showing through. I had to be honest. I couldn't trust my advisers, and the murderer might have been on my side, so what else could I do, in the face of all that, except stop playing any sort of game and just be? Be queen as I wanted to be queen, in the court and out. Be myself, be Queen Freya, be whatever sort of person that turned out to be.
As twenty-third in line to the throne, Freya would much rather spend her days in her laboratory than in court. Her life changes on the king's birthday though, when a mass poisoning sweeps the party.
Now queen, Freya must navigate court life, attempt to be true to herself and rule a kingdom, all while investigating the murders.
Freya is pretty darn unique, especially for YA fantasy I'd have to say. She suffers from social anxiety and panic attacks. She's smart, analytical and rational, always needing answers and asking lots of questions.
What I think I love most about Freya is that she suspects everyone in the book at least once. (Except for her best friend, Naomi.) She suspects her advisers, her servants, her court, even her own father. No one is ruled out immediately – a la 'oh, it couldn't possibly be them' only to have them turn out to be the killer.
I adore Freya, Naomi, Fitzroy and Madeleine. It's so nice to see their building friendships and all the twists and turns that they take. Granted, some didn't take the twists and turns that I would have liked, but what can you do?
The plot is, at it's core, a mystery. There's plenty of other trappings going on, but it's really Freya sleuthing around to figure out who killed the court – mostly just as a way to keep her safe. And I liked that. She's aware that she's interested in finding the guilty party to protect herself at least as much – probably more – than to get justice for the dead. (Honestly, the resolution to the mystery was something that I never expected/saw coming, so it gets bonus points for that.)
I only have a couple small problems. First, around page one hundred, the book lags. It starts off brilliantly, once we hit about a third through, it takes off, but there is a stretch that just doesn't move.
Also, it's frustrating. I can imagine it was supposed to be because it's frustrating for Freya and it's frustrating as a reader. I want the mystery solved. I want the advisors to quit treating Freya like a nincompoop. I want respect for the queen. Sure, I get it all, but it was just frustrating caring so much and getting soundly trounced.
Which, now that I think on it, may actually be a good thing because that does at least show that I truly care about the characters. And I do care about Freya. The rest of her inner circle a little less, but I do adore the girl. (And this is very definitely Freya's story.)
Content Advisory: Mild descriptions of poisons and their effects. A few brief panic attacks, mostly brought on by too many people, too close.