Here we are, one month into me being back blogging, and I'm already doing something I said I wouldn't: making a monthly TBR. I've honestly given this a lot of thought and I do want to organize my reading, at least a little, because I have so many books I want to read before the end of the year. I do hope to get these (and more) read this month!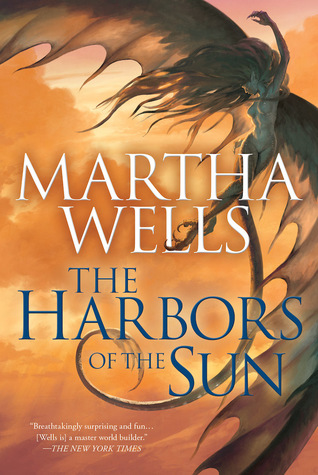 Hollow World by Michael J. Sullivan
The future is coming…for some, sooner than others.
Ellis Rogers is an ordinary man who is about to embark on an extraordinary journey. All his life he has played it safe and done the right thing, but when faced with a terminal illness, he's willing to take an insane gamble. He's built a time machine in his garage, and if it works, he'll face a world that challenges his understanding of what it means to be human, what it takes to love, and the cost of paradise. He could find more than a cure for his illness; he might find what everyone has been searching for since time began…but only if he can survive Hollow World.
This book scares me. I mean, it's by one of my favorite authors (so, of course I have to read it) but it's a departure both for him (he usually writes fantasy) and for me (it's not the sort of book I'd look at a second time if it was written by someone else) but it was a birthday gift and I've had it on my TBR for years. It's time, I believe, to finally read it.
The Edge of Worlds & The Harbors of the Sun by Martha Wells
(The Edge of World synopsis)
An expedition of groundlings from the Empire of Kish have traveled through the Three Worlds to the Indigo Cloud court of the Raksura, shape-shifting creatures of flight that live in large family groups. The groundlings have found a sealed ancient city at the edge of the shallow seas, near the deeps of the impassable Ocean. They believe it to be the last home of their ancestors and ask for help getting inside. But the Raksura fear it was built by their own distant ancestors, the Forerunners, and the last sealed Forerunner city they encountered was a prison for an unstoppable evil.
Prior to the groundlings' arrival, the Indigo Cloud court had been plagued by visions of a disaster that could destroy all the courts in the Reaches. Now, the court's mentors believe the ancient city is connected to the foretold danger. A small group of warriors, including consort Moon, an orphan new to the colony and the Raksura's idea of family, and sister queen Jade, agree to go with the groundling expedition to investigate. But the predatory Fell have found the city too, and in the race to keep the danger contained, the Raksura may be the ones who inadvertently release it.
I've been putting off reading these books until I could read them back-to-back to finish off the series. Until the author writes more. *begging* Anyhow, almost needless to say, for me to do something like this I love and adore this series.
An alternate history / historical fantasy / steampunk novel set in the Belgian Congo, from noted short story writer Nisi Shawl.
Everfair is a wonderful Neo-Victorian alternate history novel that explores the question of what might have come of Belgium's disastrous colonization of the Congo if the native populations had learned about steam technology a bit earlier. Fabian Socialists from Great Britian join forces with African-American missionaries to purchase land from the Belgian Congo's "owner," King Leopold II. This land, named Everfair, is set aside as a safe haven, an imaginary Utopia for native populations of the Congo as well as escaped slaves returning from America and other places where African natives were being mistreated.
Shawl's speculative masterpiece manages to turn one of the worst human rights disasters on record into a marvelous and exciting exploration of the possibilities inherent in a turn of history. Everfair is told from a multiplicity of voices: Africans, Europeans, East Asians, and African Americans in complex relationships with one another, in a compelling range of voices that have historically been silenced. Everfair is not only a beautiful book but an educational and inspiring one that will give the reader new insight into an often ignored period of history.
This is actually partially for a challenge. I was super excited for this book, but it doesn't get the best reviews so I'm just hoping I like it.
"Never underestimate the power of a good story."
Good advice…especially when a story can kill you.
For most people, the story of their lives is just that: the accumulation of time, encounters, and actions into a cohesive whole. But for an unfortunate few, that day-to-day existence is affected—perhaps infected is a better word—by memetic incursion: where fairy tale narratives become reality, often with disastrous results.
That's where the ATI Management Bureau steps in, an organization tasked with protecting the world from fairy tales, even while most of their agents are struggling to keep their own fantastic archetypes from taking over their lives. When you're dealing with storybook narratives in the real world, it doesn't matter if you're Snow White, Sleeping Beauty, or the Wicked Queen: no one gets a happily ever after.
While I am super excited to read this book (because I have heard absolutely wonderful things about it) it's also part of my Fall TBR and I'm hoping that I'll manage to get that entire list finished!
The Winner's Crime by Marie Rutkoski
Book two of the dazzling Winner's Trilogy is a fight to the death as Kestrel risks betrayal of country for love.
The engagement of Lady Kestrel to Valoria's crown prince means one celebration after another. But to Kestrel it means living in a cage of her own making. As the wedding approaches, she aches to tell Arin the truth about her engagement… if she could only trust him. Yet can she even trust herself? For—unknown to Arin—Kestrel is becoming a skilled practitioner of deceit: an anonymous spy passing information to Herran, and close to uncovering a shocking secret.
As Arin enlists dangerous allies in the struggle to keep his country's freedom, he can't fight the suspicion that Kestrel knows more than she shows. In the end, it might not be a dagger in the dark that cuts him open, but the truth. And when that happens, Kestrel and Arin learn just how much their crimes will cost them.
This is cheating a little because as I'm getting this post ready for scheduling, this is actually the next book I plan on reading. Which means, if all goes according to plan, I'll be finished with it before this post goes live. (It's also part of my Fall TBR.)
What do you plan to read this month? Have you read any of these books? Do TBR's work for you or are you better off not making any plans?