There are some really cool sounding books that release this month and I can't wait until more reviews start pouring in.
The Long Past & Other Stories by Ginn Hale
Releases: October 3rd
1858 – Warring mages open up a vast inland sea that splits the United States in two. With the floodwaters come creatures from a long distant past. What seems like the End Times forges a new era of heroes and heroines who challenge tradition, law, and even death as they transform the old west into a new world.
In the heart of dinosaur country a laconic trapper and a veteran mage risk treason to undertake a secret mission.
A brilliant magician and her beautiful assistant light up stages with the latest automaton, but the secrets both of them are hiding test their trust in each other and pit them against one of the most powerful men in the world.
At the wild edge of the Inland Sea, amidst crocodiles and triceratops, an impoverished young man and a Pinkerton Detective must join forces to outmaneuver a corrupt judge and his gunmen.
I've enjoyed what I've read by Ginn Hale – and I think one of these stories was her contribution to the Once Upon a Time in the Weird West anthology and it was a really fun story. I'm pretty much there for anything that takes dinosaurs into a more modern era. (Not to mention that the world building for this setting reminds me of Jules Vern.)
Dare Mighty Things by Heather Kaczynski
Releases: October 10th
THE RULES ARE SIMPLE: You must be gifted. You must be younger than twenty-five. You must be willing to accept the dangers that you will face if you win.
Seventeen-year-old Cassandra Gupta's entire life has been leading up to this—the opportunity to travel to space. But to secure a spot on this classified mission, she must first compete against the best and brightest people on the planet. People who are as determined as she to win a place on a journey to the farthest reaches of the universe.
Cassie is ready for the toll that the competition will take; the rigorous mental and physical tests designed to push her to the brink of her endurance. But nothing could have prepared her for the bonds she would form with the very people she hopes to beat. Or that with each passing day it would be more and more difficult to ignore the feeling that the true objective of the mission is being kept from her.
As the days until the launch tick down and the stakes rise higher than ever before, only one thing is clear to Cassie: she'll never back down . . . even if it costs her everything.
I'm going down on record as being cautiously optimistic about this story. While it sounds as though it could be incredibly not my book – and somewhat generic – I am excited for it because there are reports that the main character is asexual. And it sounds more based around friendship than romance. So, fingers crossed.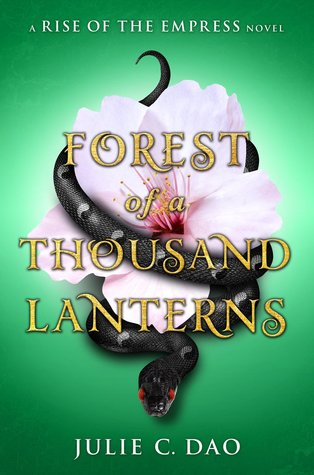 Forest of at Thousand Lanterns by Julie C. Dao
Releases: October 10th
An East Asian fantasy reimagining of The Evil Queen legend about one peasant girl's quest to become Empress–and the darkness she must unleash to achieve her destiny.
Eighteen-year-old Xifeng is beautiful. The stars say she is destined for greatness, that she is meant to be Empress of Feng Lu. But only if she embraces the darkness within her. Growing up as a peasant in a forgotten village on the edge of the map, Xifeng longs to fulfill the destiny promised to her by her cruel aunt, the witch Guma, who has read the cards and seen glimmers of Xifeng's majestic future. But is the price of the throne too high?
Because in order to achieve greatness, she must spurn the young man who loves her and exploit the callous magic that runs through her veins–sorcery fueled by eating the hearts of the recently killed. For the god who has sent her on this journey will not be satisfied until his power is absolute.
Honestly, this book has been on my list since before a cover and, I'm pretty sure, before that synopsis. I think all I knew about the book was a diverse retelling. Reading about it now…I'm still excited because of that, but this is one book I definitely need reviews of.
Off the Ice by Avon Gale & Piper Vaughn
Releases: October 30th
Tristan Holt is nothing if not pragmatic. Despite a flourishing career as a defenseman for the Atlanta Venom, Tristan knows he can't play hockey forever. One day he'll retire—if an injury doesn't force him to hang up his skates first. His backup plan? Finishing his business degree. But he doesn't count on a very inappropriate attraction to his standoffish sociology professor, Sebastian Cruz.
Sebastian is on the bottom rung of the Sociology Department at Georgia State. He has his sights set on tenure, and he can't afford to be distracted, especially not by a sexy student with a body straight out of Sebastian's dreams. No matter how much Tristan tempts him, that's one line Sebastian won't cross. At least not until summer classes end. After that, everything is fair game.
But Sebastian lives loud and proud, and Tristan is terrified of being the first out player in the NHL. Neither of them can afford to risk their hearts when they can't imagine a happily ever after. The problem is, unlike hockey, when it comes to love, there are no rules.
This is another departure book for Gale – whose stories I usually love. Pretty sure I've never read anything by Vaughn. Very curious for reviews of this before I commit, though.
So, what books are coming out this month that you're interested in?