I hate these type of topics a little – the fill in your own sorts. I mean, it's always fun to see what everyone else does, but I have a terrible time settling on what I want to do. Lately I've been trying to find more books that are diverse so I thought this topic might be kind of fun.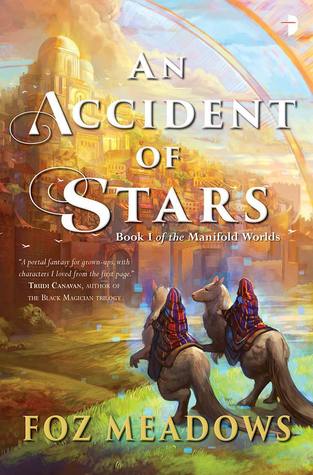 An Accident of Stars by Foz Meadows
First up, I love everything about this fantasy book. It features racial and sexual diversity (including: aromantic POV POC, trans woman character and a f/f romance) and the book is very feminist. Besides all that, the book is just plain good!
Lord of the White Hell by Ginn Hale
This was a really fun fantasy steampunk story. There is a bit of racial diversity as the main character is from a country with a middle eastern vibe (though there is a lot more diversity when the story heads to his home in the second book) and the there is a m/m romance.
The Stepsister Scheme by Jim C. Hines
A fairytale retelling with diversity, strong feminist undertone – and overtones and all sorts of tones – and one of the three main women is a lesbian. (Which is just mentioned in the first book, but plays a huge part in the fourth and final in the series.) Over all, just a super fun series.
The Fire's Stone by Tanya Huff
Set in a middle eastern influenced world (racial diversity: check) where bisexuality isn't unusual (sexual diversity: check) and featuring a very sweet, very slow m/m romance – and yet the story is all about three dissimilar people (two men, one woman) befriending each other and relying on someone else. Honestly, what wouldn't I love?
The Cloud Roads by Martha Wells
This might be a stretch, as nothing is explicitly stated, but: This story follows a race of avian-style shifters – in a matriarchal society – that feature racial diversity among their human forms. Many of them are stated to share beds with more than one partner (I need more poly books in my life) and the description in later books for the main character spending time in his male friend's bed is worded in much the same way as him spending time in his female 'mate's' bed – and we explicitly know he is sexually active with his mate.
Strange Fortune by Josh Lanyon
This is a very adventure-esque story (somewhat in the vein of H. Rider Haggard and his ilk) set in a fantasy world. It was very fun story where enemies become friends and eventually lovers – but the eventual m/m lovers is so not what the story is about.
Daybreak Rising by Kiran Oliver
While this sci-fi/fantasy book is far from flawless, it completely blows all diversity expectations away. It features a POC main character that suffers from PTSD and develops a f/f romance with one of the other main characters, a trans man, a blind character and a lot more that I seems to have forgotten. (I'm pretty sure there were several more POC. And one character that was non binary if I'm reading the use of 'they' and 'them' correctly.)
This is a very cute steampunk YA story, that has some diversity, lots of clockwork (literally) and has the concern over the m/m romance coming from the idea of a clock spirit and a human being together rather than two guys. And the main character suffers from PTSD and trauma induced flashbacks.
This is a paranormal, urban fantasy, historical with a m/m romance and includes shifters. And magic. And for all the odd stuff it's got, it is a very, very fun story. And the start of a series (one other book and two short stories) that features a different couple each time.
So there we have nine books – and the only thing I discovered making this list is that I read more LGBT+ inclusive historical books than spec fiction. Anyway, if you leave me suggestions, I'd totally love that and I'd love to see what lists you did today!