Thanks to the ladies over at The Broke and the Bookish I find myself in the entirely odd position of doing something I said I was done with: making a TBR. I think part of the reason I had such a reading slump earlier this year (and a blogging slump that turned into a blogging hiatus) was because of TBRs. I'd make one up at the beginning of each month and then not read any of the books on it and feel disappointed in myself. But, I do want to have a TBR list for a season, at least, so I decided to try something a bit different. You see, I recently went on a book buying binge. Right now, I own more books than I have in at least a year, so don't ask me to choose what I'm actually going to read. Instead I decided to take my list of books and grab a number randomizer off the internet and let fate decide what books I'll be reading this season.
Range of Ghosts by Elizabeth Bear
Temur, grandson of the Great Khan, is walking away from a battlefield where he was left for dead. All around lie the fallen armies of his cousin and his brother, who made war to rule the Khaganate. Temur is now the legitimate heir by blood to his grandfather's throne, but he is not the strongest. Going into exile is the only way to survive his ruthless cousin.
Once-Princess Samarkar is climbing the thousand steps of the Citadel of the Wizards of Tsarepheth. She was heir to the Rasan Empire until her father got a son on a new wife. Then she was sent to be the wife of a Prince in Song, but that marriage ended in battle and blood. Now she has renounced her worldly power to seek the magical power of the wizards.
These two will come together to stand against the hidden cult that has so carefully brought all the empires of the Celadon Highway to strife and civil war through guile and deceit and sorcerous power.
The Edge of Worlds by Martha Wells
An expedition of groundlings from the Empire of Kish have traveled through the Three Worlds to the Indigo Cloud court of the Raksura, shape-shifting creatures of flight that live in large family groups. The groundlings have found a sealed ancient city at the edge of the shallow seas, near the deeps of the impassable Ocean. They believe it to be the last home of their ancestors and ask for help getting inside. But the Raksura fear it was built by their own distant ancestors, the Forerunners, and the last sealed Forerunner city they encountered was a prison for an unstoppable evil.
Prior to the groundlings' arrival, the Indigo Cloud court had been plagued by visions of a disaster that could destroy all the courts in the Reaches. Now, the court's mentors believe the ancient city is connected to the foretold danger. A small group of warriors, including consort Moon, an orphan new to the colony and the Raksura's idea of family, and sister queen Jade, agree to go with the groundling expedition to investigate. But the predatory Fell have found the city too, and in the race to keep the danger contained, the Raksura may be the ones who inadvertently release it.
The Edge of Worlds, from celebrated fantasy author Martha Wells, returns to the fascinating world of The Cloud Roads for the first book in a new series of strange lands, uncanny beings, dead cities, and ancient danger.
The Magpie Lord by K.J. Charles
A lord in danger. A magician in turmoil. A snowball in hell.
Exiled to China for twenty years, Lucien Vaudrey never planned to return to England. But with the mysterious deaths of his father and brother, it seems the new Lord Crane has inherited an earldom. He's also inherited his family's enemies. He needs magical assistance, fast. He doesn't expect it to turn up angry.
Magician Stephen Day has good reason to hate Crane's family. Unfortunately, it's his job to deal with supernatural threats. Besides, the earl is unlike any aristocrat he's ever met, with the tattoos, the attitude… and the way Crane seems determined to get him into bed. That's definitely unusual.
Soon Stephen is falling hard for the worst possible man, at the worst possible time. But Crane's dangerous appeal isn't the only thing rendering Stephen powerless. Evil pervades the house, a web of plots is closing round Crane, and if Stephen can't find a way through it—they're both going to die.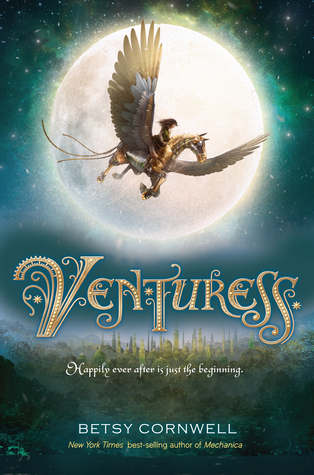 Happily ever after is just the beginning.
Nicolette's Cinderella story is over, and she's finally living her own fairy tale happy ending. She's a successful inventor now, free of her horrible stepfamily, and content in her loving friendship with Caro, a palace servant, and Fin, the prince of Esting.
Then she receives a message from her long-lost housekeeper, now a revolutionary, begging her to bring the prince to Faerie for a diplomatic meeting. Nicolette fears a trap, but decides that the chance to end the bloody war waged by their kingdom is worth the risk.
Together with Fin and Caro, she ventures across the monster-filled ocean to the lush continent she's always dreamed of visiting. There, mechanical armies and dark magic await as they uncover devastating secrets about the past and fight for a real, lasting happily-ever-after for two troubled countries—and themselves.
The Winner's Crime by Marie Rutkoski
Book two of the dazzling Winner's Trilogy is a fight to the death as Kestrel risks betrayal of country for love.
The engagement of Lady Kestrel to Valoria's crown prince means one celebration after another. But to Kestrel it means living in a cage of her own making. As the wedding approaches, she aches to tell Arin the truth about her engagement… if she could only trust him. Yet can she even trust herself? For—unknown to Arin—Kestrel is becoming a skilled practitioner of deceit: an anonymous spy passing information to Herran, and close to uncovering a shocking secret.
As Arin enlists dangerous allies in the struggle to keep his country's freedom, he can't fight the suspicion that Kestrel knows more than she shows. In the end, it might not be a dagger in the dark that cuts him open, but the truth. And when that happens, Kestrel and Arin learn just how much their crimes will cost them.
Earth * Air * Water * Fire
These elements have sustained the peaceful people of Shaftal for generations, with their subtle powers of healing, truth, joy, and intuition.
But now, Shaftal is dying.
The earth witch who ruled Shaftal is dead, leaving no heir. Shaftal's ruling house has been scattered by the invading Sainnites. The Shaftali have mobilized a guerrilla army against these marauders, but every year the cost of resistance grows, leaving Shaftal's fate in the hands of three people: Emil, scholar and reluctant warrior; Zanja, the sole survivor of a slaughtered tribe; and Karis the metalsmith, a half-blood giant whose earth powers can heal, but only when she can muster the strength to hold off her addiction to a deadly drug.
Separately, all they can do is watch as Shaftal falls from prosperity into lawlessness and famine. But if they can find a way to work together, they just may change the course of history.
A Vanishing Glow by Alexis Radcliff
When the High Sovereign of the five kingdoms of Ghavarim is murdered by a mysterious assassin, the realm is plunged into chaos. Jason Tern, a noble captain with a tragic past, must battle shadowy assailants and untangle an ever-widening web of lies to discover the true identity of the killer before mounting tensions spark a bloody civil war.
Meanwhile, Nilya Valsu, a talented army engineer with a broken heart, finds herself used as an unwitting pawn in a plot that has deadly consequences. Wracked by guilt, her sole chance for redemption lies with a man who would loathe her – but only if he knew her secret.
As the conflict intensifies between the magic-fueled technology of the West and the disaffected rebels of the East, all must fight for what they hold dear. Who will reign victorious and who will lie bloodied on the ground in the light of a vanishing glow?
Reawakening by Amy Rae Durreson
For a thousand years, since their defeat of the Shadow at Eyr, the dragons have slept under the mountains. Now their king, Tarnamell, has woken. Driven mad by loneliness, he hurls himself south until he finds and tries to claim the Alagard Desert. Unfortunately, the desert already has a guardian spirit, and he doesn't want to share. Amused by the cocky little desert spirit, Tarn retreats, planning to return in human form.
When his caravan enters the desert, however, Alagard is missing. Rumors fly of a dark power, and soon Tarn's caravan encounters the living dead and an amnesiac mage called Gard.
Forced to take refuge in the Court of the Shells, a legendary fortress in the heart of the desert, Tarn, Gard, and their allies decide to seek out the Shadow before it destroys the desert. But to confront the Shadow, Tarn needs to gather his strength. A dragon's power depends on the love and loyalty of his human hoard, but Tarn's original hoard has been dead for centuries. Before he can face his most ancient enemy, he must win the trust of new followers and the heart of a cynical desert spirit.
"Never underestimate the power of a good story."
Good advice…especially when a story can kill you.
For most people, the story of their lives is just that: the accumulation of time, encounters, and actions into a cohesive whole. But for an unfortunate few, that day-to-day existence is affected—perhaps infected is a better word—by memetic incursion: where fairy tale narratives become reality, often with disastrous results.
That's where the ATI Management Bureau steps in, an organization tasked with protecting the world from fairy tales, even while most of their agents are struggling to keep their own fantastic archetypes from taking over their lives. When you're dealing with storybook narratives in the real world, it doesn't matter if you're Snow White, Sleeping Beauty, or the Wicked Queen: no one gets a happily ever after.
Indexing is New York Times bestselling author Seanan McGuire's new urban fantasy where everything you thought you knew about fairy tales gets turned on its head.
I must admit, I'm very happy with the results of this – and it was really fun to put together because each books was a total surprise. (No more indecisive Amy unable to make up her mind!)
Have you read any of these books? Are any of them on your list? How do TBR lists work out for you? What are you planning to read this fall?