Welcome to my first actual post of my new blog! I'm so excited/happy to get this blog off to a brilliant start – and what better way than to talk about the books I'm interested in that hit shelves/eReaders this month? (Okay, there might be better ones, but this is the one I'm going with!)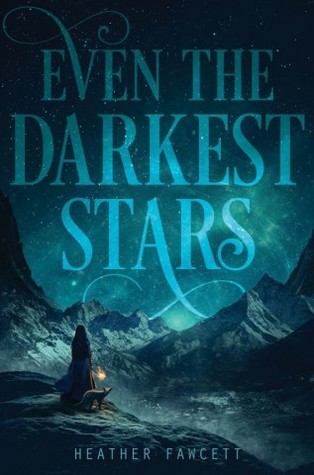 Even the Darkest Stars by Heather Fawcett
Releases September 5th
Kamzin has always dreamed of becoming one of the Emperor's royal explorers, the elite climbers tasked with mapping the wintry, mountainous Empire and spying on its enemies. She knows she could be the best in the world, if only someone would give her a chance.
But everything changes when the mysterious and eccentric River Shara, the greatest explorer ever known, arrives in her village and demands to hire Kamzin—not her older sister Lusha, as everyone had expected—for his next expedition. This is Kamzin's chance to prove herself—even though River's mission to retrieve a rare talisman for the emperor means climbing Raksha, the tallest and deadliest mountain in the Aryas. Then Lusha sets off on her own mission to Raksha with a rival explorer who is determined to best River, and Kamzin must decide what's most important to her: protecting her sister from the countless perils of the climb or beating her to the summit.
The challenges of climbing Raksha are unlike anything Kamzin expected—or prepared for—with avalanches, ice chasms, ghosts, and even worse at every turn. And as dark secrets are revealed, Kamzin must unravel the truth of their mission and of her companions—while surviving the deadliest climb she has ever faced.
Why I'm interested in it: Okay, so I was much more excited for it before skimming through the reviews. But, I'm still going to be considering it until a few more reviews come out. But, anyway, I think this was on a 'diverse' list as well as the fact that it just sounds like it has the potential to be super-awesome!
The Love Song of Sawyer Bell by Avon Gale
Releases September 25th
Victoria "Vix" Vincent has only two weeks to find a replacement fiddle player for her band's summer tour. When classically trained violinist Sawyer Bell shows up for an audition, Vix is thrilled. Sawyer is talented, gorgeous, funny, and excited about playing indie rock instead of Beethoven. Their friendship soon blossoms into romance, even though Vix tries to remember that Sawyer's presence is only temporary.
Sawyer's parents think she's spending the summer months touring Europe with a chamber ensemble. But Sawyer is in dire need of a break from the competitiveness of Juilliard, and desperately wants to rediscover her love of music. Going on tour with her secret high school crush is just an added bonus. Especially when Vix kisses her one night after a show, and they discover that the stage isn't the only place they have chemistry.
But the tour won't last forever, and as the summer winds down, Sawyer has to make a tough decision about her future—and what it means to follow her heart.
Why I'm interested in it: Avon Gale. I've only read her m/m hockey romances, but I have loved every one and her writing style is just so fun. I'm beyond excited to see her take on f/f and music!
The Black Tides of Heaven by J.Y. Yang
Releases September 26th
The Black Tides of Heaven is one of a pair of unique, standalone introductions to JY Yang's Tensorate Series, which Kate Elliott calls "effortlessly fascinating." For more of the story you can read its twin novella The Red Threads of Fortune, available now.

Mokoya and Akeha, the twin children of the Protector, were sold to the Grand Monastery as children. While Mokoya developed her strange prophetic gift, Akeha was always the one who could see the strings that moved adults to action. While his sister received visions of what would be, Akeha realized what could be. What's more, he saw the sickness at the heart of his mother's Protectorate.
A rebellion is growing. The Machinists discover new levers to move the world every day, while the Tensors fight to put them down and preserve the power of the state. Unwilling to continue to play a pawn in his mother's twisted schemes, Akeha leaves the Tensorate behind and falls in with the rebels. But every step Akeha takes towards the Machinists is a step away from his sister Mokoya. Can Akeha find peace without shattering the bond he shares with his twin sister?
The Red Threads of Fortune by J.Y. Yang
Releases September 26th
The Red Threads of Fortune is one of a pair of unique, standalone introductions to JY Yang's Tensorate Series, which Kate Elliott calls "effortlessly fascinating." For more of the story you can read its twin novella The Black Tides of Heaven, available now.

Fallen prophet, master of the elements, and daughter of the supreme Protector, Sanao Mokoya has abandoned the life that once bound her. Once her visions shaped the lives of citizens across the land, but no matter what tragedy Mokoya foresaw, she could never reshape the future. Broken by the loss of her young daughter, she now hunts deadly, sky-obscuring naga in the harsh outer reaches of the kingdom with packs of dinosaurs at her side, far from everything she used to love.
On the trail of a massive naga that threatens the rebellious mining city of Bataanar, Mokoya meets the mysterious and alluring Rider. But all is not as it seems: the beast they both hunt harbors a secret that could ignite war throughout the Protectorate. As she is drawn into a conspiracy of magic and betrayal, Mokoya must come to terms with her extraordinary and dangerous gifts, or risk losing the little she has left to hold dear.
Why I'm interested in these books: I don't even remember how I came across this, but I love everything about the sounds of them. I adore the idea of a pair of connected novellas that, from the sounds, could be read in either order. It's diverse by a Singaporean author who identifies as queer and non-binary. *slow blink* What, tell me that those aren't reasons enough. And did I mention it sounds like a totally awesome spec fiction duology?
Interested in any of these books? Did I miss some that you are super-excited for? Do tell so my TBR can keep expanding.